On Tuesday, July 25th, ticket sales were opened for the electronic music concert "FREEDOM OF MIND," which will take place at Chișinău Arena on August 25th. The lineup includes the following artists: Golan (Hybrid) from Romania, Cosmos in Buzunar from Moldova, and the renowned Pendulum DJ-Set from Australia.
The cost of the first 1,000 tickets in the GENERAL ACCESS category (age limit 14+) is 300 lei. After their sale, the price will increase.
The expansion of the lineup will be announced soon.
Golan (Hybrid) is a band from Bucharest. Using live instruments, sampling, and DJing, the trio brings a much-needed human touch to today's electronic music. Their sound is melodic and dreamy while still making you dance.
Cosmos in Buzunar is a trio from Chișinău, known for performing cold synth-pop, obsessed with buttons and the sounds that can emerge from their "machinery." Their career is rapidly growing, and the band has already been invited to major festivals abroad.
Pendulum originated in Australia in 2002 and later moved to the United Kingdom in 2003. Although their first album was primarily drum and bass, Pendulum started experimenting with various musical styles. They incorporated elements of alternative rock, heavy metal, dubstep, industrial, hard rock, and house into their music. The band has participated in some of the biggest electronic music festivals. For the concert in Chișinău, Pendulum will deliver a remarkable DJ-Set.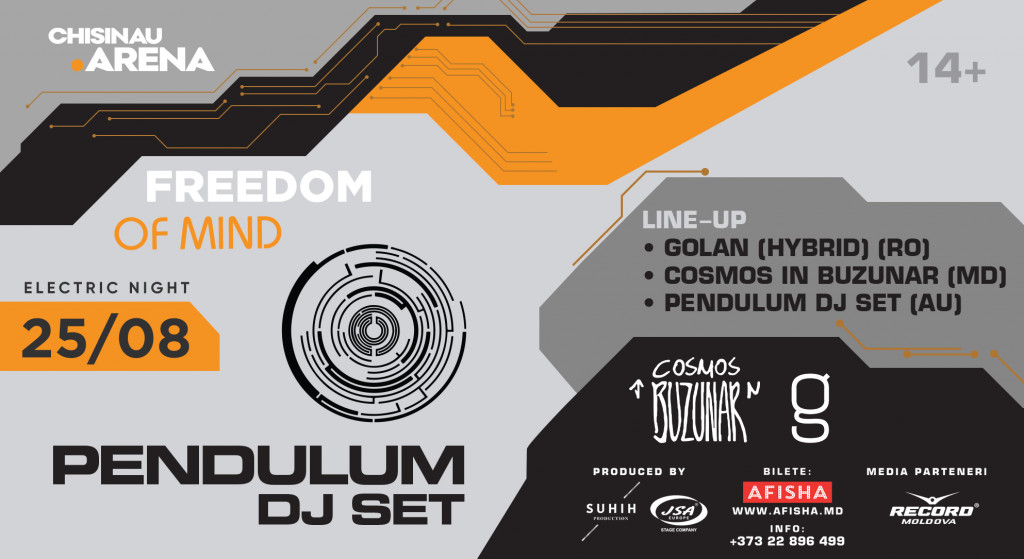 In total, three grand concerts are scheduled for August. These events are intended for audiences of all ages and musical preferences. On August 26th, the Symphonic Rock Arena will bring together 100 musicians from Moldova (Moldovan National Youth Orchestra) and Ukraine. On August 27th, true rock music will be performed by bands like Alternosfera and "Okean Elzy."
FOR THE MOST IMPORTANT NEWS, FOLLOW US ON TWITTER!