The Prime Minister, Dorin Recean, received the American delegation at the Government House, led by the Secretary of State of North Carolina, Elaine Marshall. The meeting represented an opportunity to strengthen the relationship with the state of North Carolina and highlight the ongoing cooperation with the United States of America.
"Every year, the Republic of Moldova and North Carolina strengthen their sister-state relationship. We thank you for your personal contribution to the development of the Moldo-American partnership, and we continue to rely on the support of our friends from North Carolina in implementing the common agenda," emphasized Prime Minister Dorin Recean.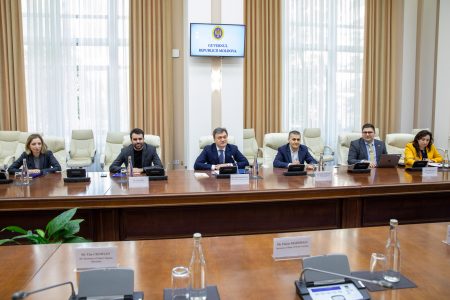 During the discussion, officials addressed multiple topics, including:
Strengthening economic partnership – recognizing the potential for increased trade and investment between Moldova and North Carolina, particularly in the fields of technology, agriculture, education, energy security, and the transition to green energy.
Cultural and educational cooperation – expressing interest in continuing to promote cultural exchanges and educational programs between universities in North Carolina and those in our country.
Support for Moldova's accession to the European Union. In this context, Prime Minister Dorin Recean emphasized our country's strong commitment to integrating into the European community, and the American official reiterated that through support for sector-specific programs, the state of North Carolina contributes to Moldova's European aspirations.
Training, strategic communication, and security – Prime Minister Dorin Recean welcomed the launch of a new cooperation project with the School of Government at the University of North Carolina, which will contribute to the improvement of programs offered to public officials in our country. Additionally, American experts will conduct training in public administration and strategic communication later this week.
In addition to these topics, the head of the Executive branch also noted North Carolina's contribution to the transformation of the National Army in accordance with Western standards through bilateral commitments between the Ministry of Defense and the North Carolina National Guard.
In turn, Secretary of State Elaine Marshall reconfirmed the support of American partners from the state of North Carolina and outlined new objectives for economic and educational cooperation. "A strong state means strong institutions and competent employees," emphasized the American official.
The American state of North Carolina has been sister-state partners with the Republic of Moldova since 1999, and the first collaborative projects began in 1995.