The promulgation decree and the Law for the implementation of considerations of some decisions of the Constitutional Court were published in today's issue, March 24, of the Official Gazette and entered into force.
Thus, starting today, in all legislation of the Republic of Moldova, the phrase "Romanian language" will take the place of "Moldovan language". The phrases "official language", "state language" and "mother tongue" will also be replaced.
Among the provisions of the law is the consideration of the obsolescence of the text "operating on the basis of Latin script" in Article 13 of the Constitution. Also, within 30 days from the entry into force of the law, the public authorities with the competence to adopt, approve or issue normative acts inferior to the law will make the necessary changes. At the same time, the "Limba Noastra" (Our language) National Holiday, as it is currently called in the Parliament's Decision on commemorative days, holidays, and rest days and in the Labor Code, will be called "Romanian Language".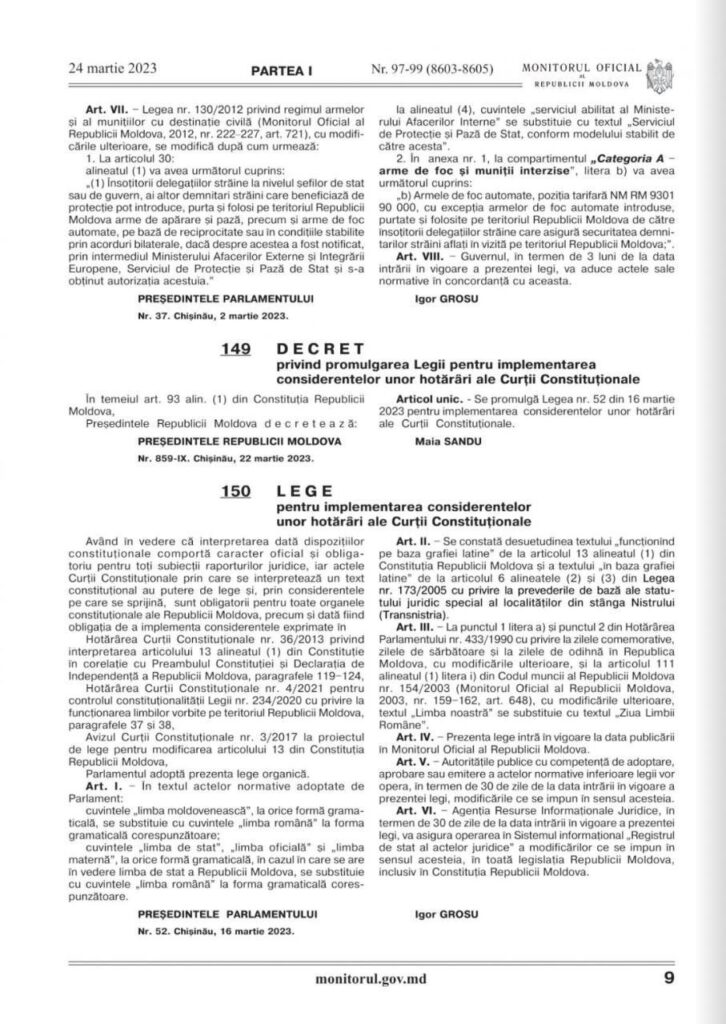 The draft law was registered in Parliament on February 24. The authors are a group of deputies from the Action and Solidarity Party, which holds the majority in Parliament.
The Legal Information Resources Agency will ensure in the "State Register of Legal Acts" information system the operation of changes related to the state language – Romanian, in all the legislation of the Republic of Moldova, including the Constitution of the country.
On December 5, 2013, the Constitutional Court established that the official language of the Republic of Moldova is Romanian, as written in the Declaration of Independence, which prevails over the Constitution. At that time the High Court recommended to Parliament that Article 13 of the Constitution of the Republic of Moldova be amended in accordance with the provisions included in the Declaration of Independence. Still, no subsequent legislature has included this topic on the agenda.