During her visit to the Czech Republic, the president of the country met three of the Moldovan dancers from the State Opera in Prague. Maia Sandu wrote about the meeting with the dancers on her Instagram page and also attached some photos.
"I warmly greeted Alina Nanu, who last night performed the role of Juliet in the ballet "Romeo and Juliet", being applauded by the audience for a long time. Alina is originally from Chisinau, and since 2015, she is the first ballerina of the Czech State Ballet. I also appreciated the performance of her colleagues from Moldova, trained in the show – Irina Burduja, also a prima ballerina, and Veaceslav Burlac – and I felt very proud of the way they represented our country", wrote Maia Sandu.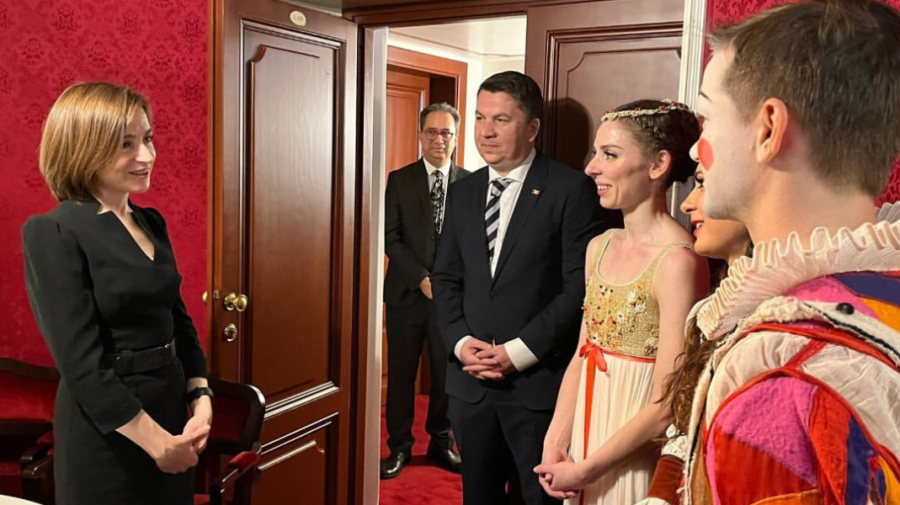 "I have convinced myself time and time again that our land is an inexhaustible source of talents, which bring us fame in the world. We thanked the young artists for their effort, we wished them success and inspiration, and we told them that we would be happy to see them develop at home as well", the Head of State stated.
The presidency announced the other day that the head of state will participate in the inaugural Summit of the European Political Community in Prague, where she will have several bilateral meetings and meet with representatives of the Moldovan community in the Czech Republic.
FOR THE MOST IMPORTANT NEWS, FOLLOW US ON FACEBOOK!
The new pan-European grouping, in which Maia Sandu participates, is an initiative of the French president Emmanuel Macron, who sees in it an opportunity to structure the dialogue on equal terms between EU and non-EU states on issues facing all European countries .
The European Political Community includes several countries that want to join the European Union, but also the only one that has ever left the bloc, the United Kingdom.