The first 41 companies this year, launched by migrants or their first-degree relatives, will receive state funding of up to 250 thousand lei for starting or developing a business in the Republic of Moldova. The investment projects submitted by the diaspora representatives were approved on April 14th, by the Supervisory Committee of the "PARE 1 + 1" Program, managed by the Organization for the Development of the Small and Medium Enterprises Sector (ODIMM).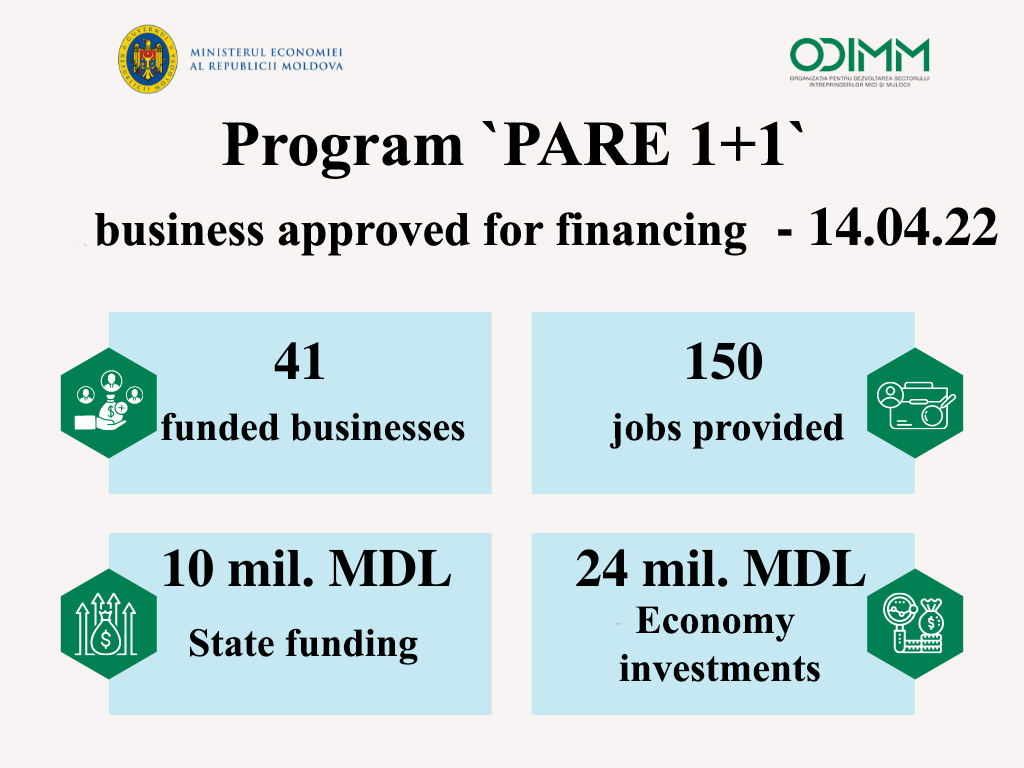 The total amount of grants is about 10 million lei, and the volume of investments in the economy will be about 24 million lei. Thus, according to the forecasts included in the investment projects, the 41 companies will employ 150 people, including 70 young people and 40 women.
Dumitru Pîntea, interim director of ODIMM, reaffirmed the institution's commitment to supporting all people with an entrepreneurial spirit to develop businesses, including workers in the diaspora.
"ODIMM supports economic agents at all stages of business development, offering them consultancy, mentoring and non-reimbursable financing. At present, for the PARE 1 + 1 Program, we are continuously receiving applications for investment projects in order to attract remittances to the national economy and to support the return of migrant workers home ", the director specified.
The managers of the 41 companies selected for funding are migrants working in more than 15 states. The largest share is held by people who invest remittances obtained in Italy, Romania, Great Britain and Germany.
Most grant companies (80%) operate in rural areas, being located in 23 districts of the country. Out of the total number of applications for grants this year, 21 businesses are active in agriculture: growing cereals, growing vegetables in the greenhouse, processing vineyards, fruit trees and animal husbandry.
For more convenience and diversity, follow us on Facebook!
The program to attract remittances in the economy "PARE 1 + 1" is implemented by the Organization for the Development of the Small and Medium Enterprises Sector (ODIMM) since 2010 and aims to mobilize the human and financial resources of Moldovans working abroad in economic development sustainable development of the Republic of Moldova. The program operates on the basis of the "1 + 1" algorithm, so that each leu invested in remittances is supplemented by a lion in the form of a grant. The amount of the grant is up to 250,000 lei. Beneficiaries of grants may be citizens of the Republic of Moldova, working abroad and beneficiaries of remittances, first degree relatives.