The President of the Parliament, Igor Grosu, had a meeting with the former President of Lithuania, Dalia Grybauskaite, who is in the Republic of Moldova to participate in the "Women's Forum 2023," taking place today in Chisinau.
The main topics discussed during the meeting were the European agenda of the Republic of Moldova and Lithuania's experience in joining the European Union. Dalia Grybauskaitė conveyed the message that Moldova's accession to the European Union depends on each citizen, and the direction our country is heading in is the right one. She is considered one of the most experienced European politicians, having led Lithuania during the accession negotiations and also served as a European Commissioner.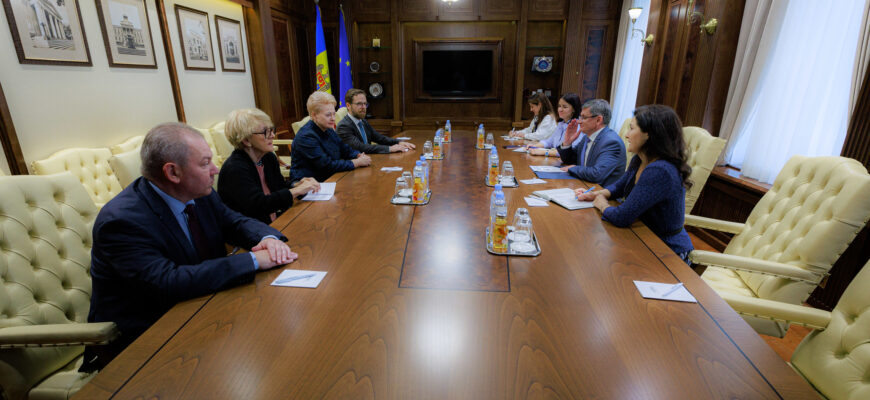 The meeting was also attended by Polish Member of the European Parliament Danuta Hübner, a former EU Commissioner, who expressed messages of support for Moldova's European path.
The President of the Parliament, Igor Grosu, also had discussions with Sviatlana Tsikhanouskaya, the leader of the opposition in Belarus, who is also participating in the "Women's Forum 2023." The discussions focused on the regional situation and the bilateral agenda of the Parliamentary Group for the Support of "Democratic Belarus," established last year. Members of the parliamentary group, led by Marina Morozova, had a separate discussion with the leader of the Belarusian opposition.
"We wished success to these distinguished ladies, who are special guests of the 'Women's Forum 2023,' and I am sure that such events will inspire more women to become actively involved in social and economic life. Our women create and lead successful businesses, become world champions in high-performance sports, and do wonderful things in the villages and cities they lead," said Igor Grosu, the President of the Parliament.