On August 28, at 19:00, the "KEDEM" Jewish Cultural Center invites you to an evening of intercultural musical dialogue, during which you will learn more about the friendship of two peoples so similar, but at the same time, unique – the Jewish and the Moldavian!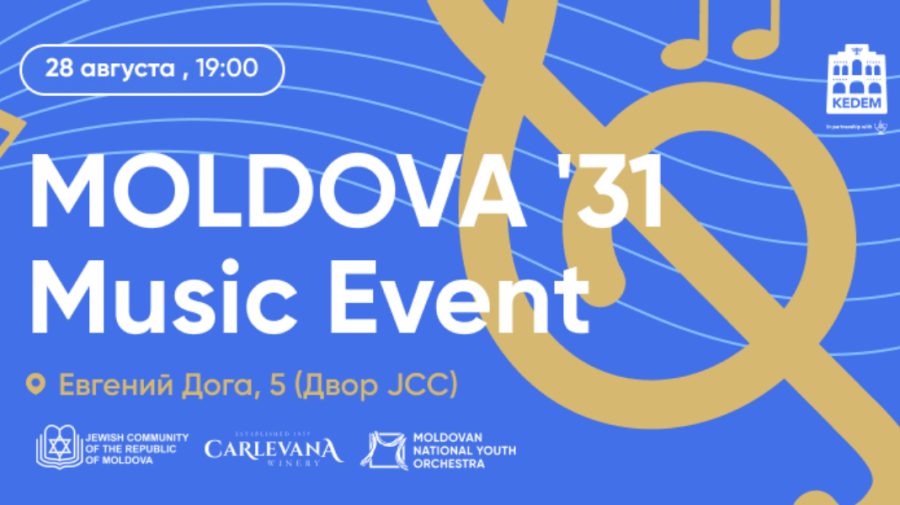 Evening schedule:
– "Welcome drink" in Moldovan style with traditional snacks and wine from Carlevana Winery
– Jewish and Moldovan music concert by the Moldovan National Youth Orchestra
Tickets can be purchased HERE.
Our peoples not only share a common history. Over the years, our cultures have also merged. In the evening of August 28, six talented musicians of the Moldovan National Youth Orchestra will perform in unison compositions signed by Moldovan and Jewish authors, in honor of the Independence Day of the Republic of Moldova.
FOR THE MOST IMPORTANT NEWS, SUBSCRIBE TO OUR TELEGRAM CHANNEL!
Moldovan Youth Orchestra is a national youth orchestra, created in 2011, at the initiative of Andriano Marian. The orchestra is made up of about 200 young musicians, who represent Moldova on the big stages in the country, as well as abroad.
Event partners: Jewish Community from the Republic of Moldova, Carlevana Winery