"Do not be afraid of the messiness of politics if you want real change!" With such a message, the president of the country, Maia Sandu, came to the 2022 promotion of Harvard University, from the USA, where the head of state gave a speech at the graduation of the institution.
Describing her own unlikely journey from anti-corruption activist to Moldova's head of state, Sandu said that "politics is about big, real, immediate, and long-term impact."
"If you want real change that will directly impact communities and societies—you need to get into politics," Sandu said. "Political leadership is about educating society and setting an example and standards for the society. Shaping the future. It is about empowering people. At Harvard, we are all prepared to work hard, and dream big. So do not be afraid. Get involved in politics, in the name of greater changes that we all need in these extremely challenging times."
Sandu was speaking to 609 HKS alumni from 37 states and 86 countries who had convened on campus for the first time in three years for commencement ceremonies. Because of the pandemic, the University hosted virtual graduations in 2020 and 2021, while a special ceremony will be performed on Sunday to honor those graduates. Sandu was introduced by Dean Doug Elmendorf, who described how she has "demonstrated principled and effective public leadership that is a model for us all." Despite difficulties in Moldova, Elmendorf said, "President Sandu keeps going, keeps inspiring, keeps leading."
In her speech, Maia Sandu repeated her criticisms of the invasion and said there could be no justification for Russia's attempts at "carving out spheres of influence in the 21st century." She pointed to the sacrifices her country was making in welcoming more than 100,000 Ukrainian refugees—amounting to about 4% of Moldova's population. And she reiterated her aspiration to "lock in Moldova's future in a family of established democracies, a European family." Looking westward toward Brussels and the European Union rather than Moscow is "our main national project," Sandu said.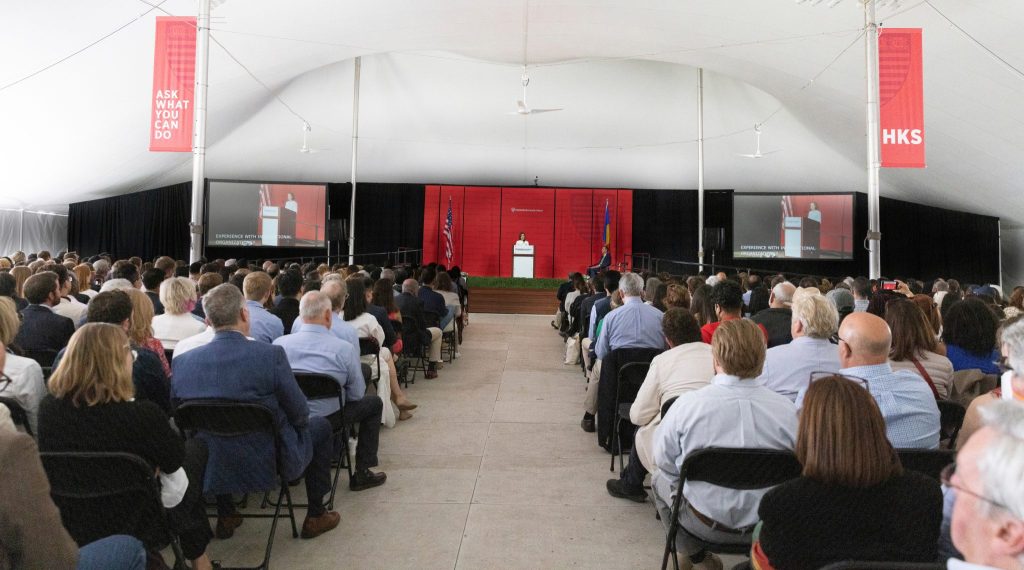 But Sandu focused less on the current geopolitical turmoil and more on the value of politics as a profession and vocation. She spoke to the graduate students about how after graduating from the University she became an advisor to one of the executive directors of the World Bank, and later received the proposal to be the Minister of Education, which made the press "to put a target on her", for some reforms, which were not that easy to do.
The head of state also told the graduates about the situation in our country, the process of reforming the justice sector, the corruption that has spread, as well as Moldova's aspirations to integrate into the EU.
"I never intended to become a politician. I didn't know how to do it," she said. "I realize that here at Harvard Kennedy School and in other good places, many well-educated, effective managers and sectoral leaders say they prefer to keep their distance from politics. People do not want to mess up with politics. I thought exactly the same. Up to a point. Until I decided that I do not want to live in a country led by corrupt people."
She was surprised by the fact that entrenched powers allowed her to form a political party at all.
"I think they didn't see us as a threat to their rule, but looked at us as a bunch of nerds unable to pose a threat to their crooked regime," she said. "Novices who would play politics and exit under pressure from a government that can crack anyone. But they were wrong."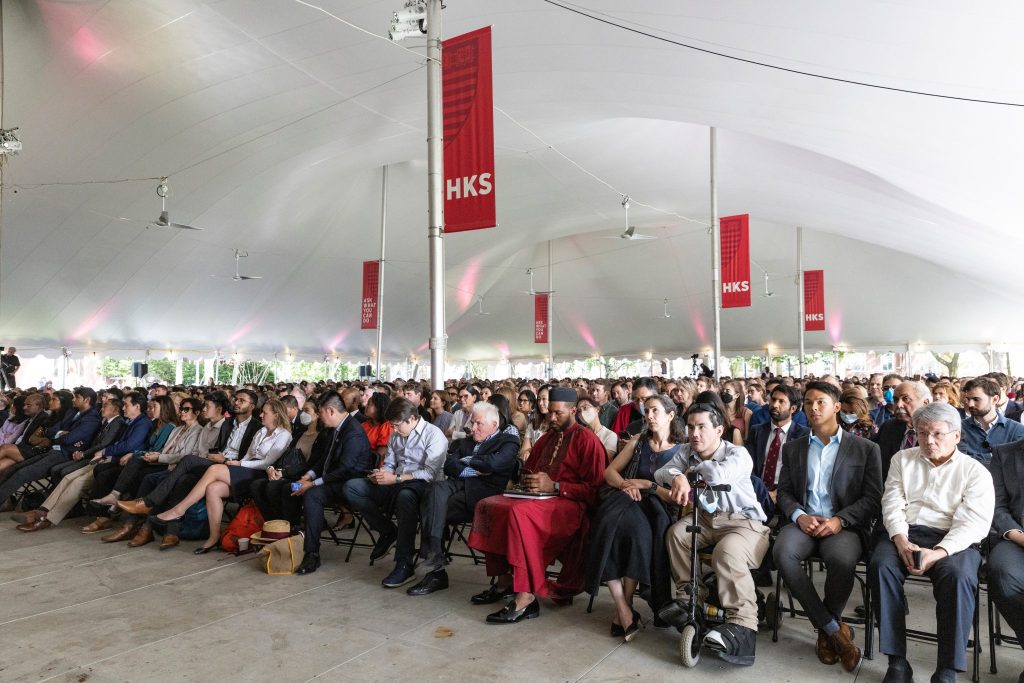 Following elections in 2019, Sandu forged a coalition with the old-guard, pro-Russian Socialists, but vowed to pursue a policy of "de-oligarchization." After just five months as prime minister, her insistence on appointing an independent chief prosecutor to fight corruption led to her ouster through a no-confidence vote. Refusing to back down, she launched a campaign for president and won with 58% of the vote in 2020. Success in parliamentary elections followed a year later.
"This gave us a clear mandate for change, for reforming Moldova and bringing it where it belongs—to the European family of states," Sandu said. "My country is now run by a woman president and a woman prime minister—both Harvard Kennedy School graduates," Sandu said, referring to Prime Minister Natalia Gavrilita MPP 2005.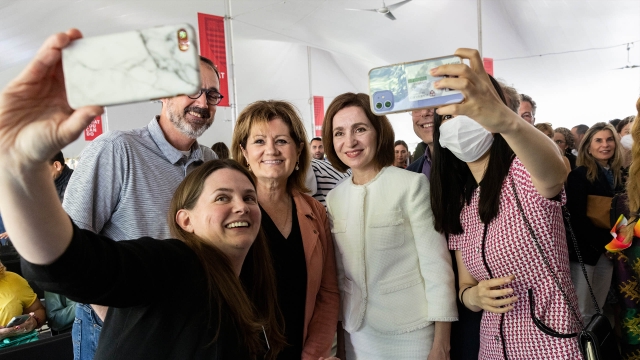 Sandu offered graduates a series of lessons for new leaders, including having patience, humility, building a strong team, and staying true to one's principles. But above all, she urged a passion for stepping into the cauldron of politics. "We need new leaders in politics," she said. "We need more people with integrity in politics. In all countries and international organizations that shape the future of our world."
She concluded: "If you want to live in a better world, and I am sure you do, I urge you to become involved in shaping it, on behalf of your own people, and for the future generations!"
For more convenience and diversity, follow us on TWITTER!