The "Geneza Art" theater invites you to the premiere of the performance "SONATA LUNII", which will take place on Wednesday, September 14, at 7:00 p.m. The show inspired by the movie "Dine with the upstairs neighbors" and adapted to the theater stage by the director Daniela Burlaca presents the story of four multiplied characters – the downstairs and upstairs neighbors.
The downstairs neighbors have been together for many years. They barely see each other anymore, and arguments have become a constant in their relationship. On a Friday night, the upstairs neighbors, a little younger than them, will come to the feast. What the hosts don't know is that this evening will unexpectedly turn into an orchestra of untuned emotions.
FOR THE MOST IMPORTANT NEWS, FOLLOW US ON FACEBOOK!
Classical music, spicy themes, challenging situations that highlight the issue of the couple from the love relationship to the experience of sex. An 18+ comedy that will keep you on your toes.
In roles:
Iurie Gologan/ Inna Colbasiuc
Nicu Țurcanu/ Cristina Trînbaci
Viorel Cozma/ Ana-Sia Carăuș
Cristian Perepeliuc/ Veronica Odagiu
Andrei Chira/Victoria Botnar
Mihai Bordian/ Daniela Burlaca
Director: Daniela Burlaca
Costumes: Lilia Ixari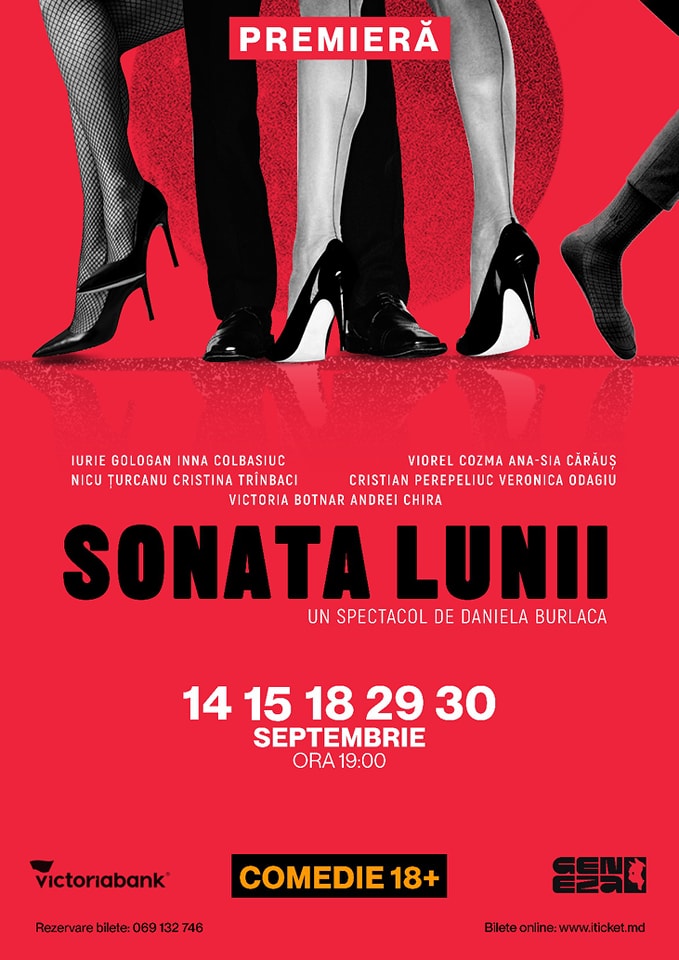 For additional information call the tel. 0795 96 996 (Cristina Răileanu)